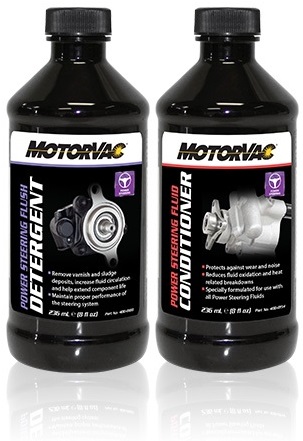 Power steering fluid degrades as it is exposed to heat. The power steering system can become noisy and stiff while the fluid loses lubricity potentially causing metal-to-metal wear

The MotorVac Solution

• SteerClean SCK1000 kits improve the operation of the

  steering system and extends its life.

Step 1 SteerClean Power Steering Flush Detergent

• Removes varnish and sludge deposits to increase fluid

  circulation and extend component life. Promotes a better

  fluid exchange.

Step 2 SteerClean Power Steering Fluid Conditioner

• Protects against wear and noise

• Helps keep the system clean after a service

• Conditions seals to prevent potential leaks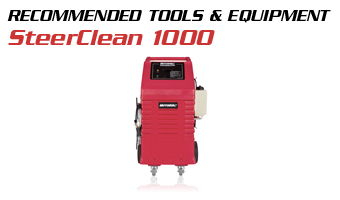 CAUTION! 

USE ONLY MOTORVAC FLUIDS IN YOUR MACHINES!

SNAP-ON & OTHER SOLVENT BASED FLUIDS CAN DAMAGE YOUR PUMP!


Part No. 400-1045

SteerClean SCK 1000  2 - Step Kit

6 Kits - 2 x 8oz (236ml) Bottles

MotorVac SteerClean SCK-1000 Part No. 400-1045

We Sell to Shops, Schools, Government, Stores, Municipalities, Military & Distributors


Specialists

Authorized Distributor

*Buy 2 Cases & Pay Only ONE $20 Shipping Total for All!







1 case   = $86.00 delivered
straight from MotorVac






2 cases = $152.00 delivered
(pay shipping only on the 1st case)
*Must Ship Same Time to Same Commercial Location

951-387-9292

Open Mon - Sat